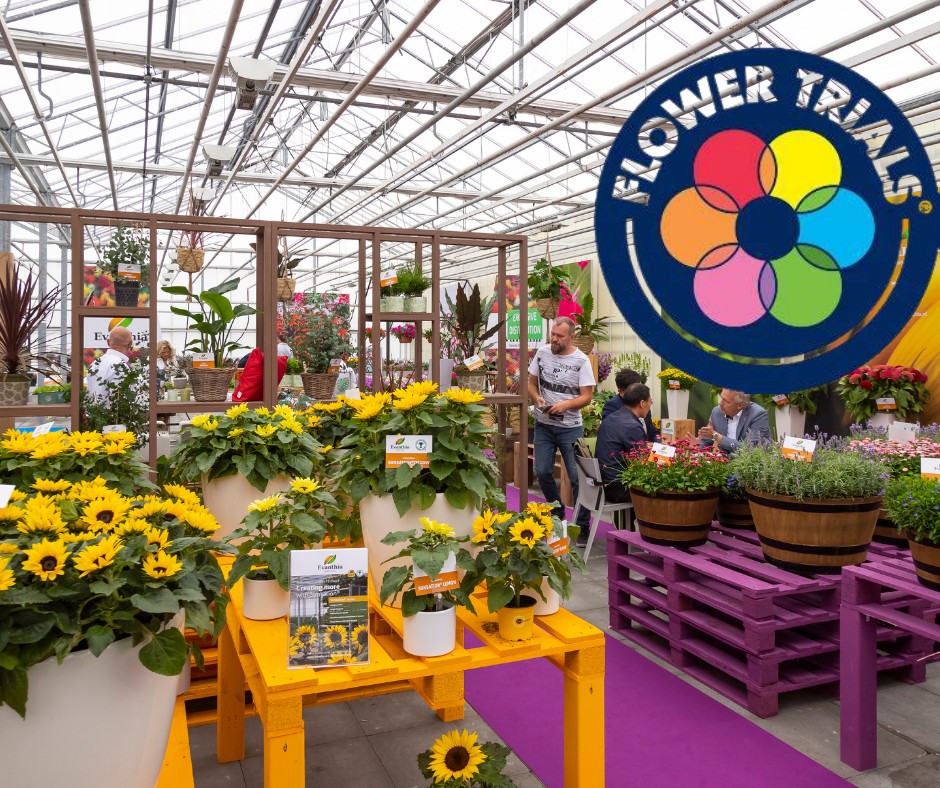 The preparations for FlowerTrials 2022 (14th-17th of June) have started. After a long period of time with hardly any possibilities for novelties to be presented directly to clients, Selecta one and Evanthia are looking forward to this event – a time for catching up with clients, whilst showing new and well-known products and concepts.
This year will be different than last time FlowerTrials as Selecta one and Evanthia will team up for the FlowerTrials 2022 at a new location: Green '05 in the Westland region in the Netherlands. Together, Selecta one and Evanthia will join forces to make it a great spectacle with lots of vibrant colours and lots of inspiration for the new sales season. Selecta one will also present their highlights in Germany at their usual FlowerTrials location at nursery Filla in Straelen.
A little peek to some of the highlights of both companies which will be presented during the FlowerTrials 2022:
Highlights Selecta one: Dianthus assortment and bedding plants highlights Verbena Drums® and SKYfamily Petunias
Selecta's outstanding breeding success Pink Kisses® will inspire the international audience with its perfect communication concept. Outstanding breeding work and first-class marketing will also be showcased with Dianthus IloveU as well as with other stand-alone varieties. Bedding plant highlight focus will be on the Drums® Verbenas – early flowering and compact, high area productivity, strong appearance at the point of sale. The SKYfamily Petunias will surprise with eagerly awaited new additions: Pink Sky, Cherry Sky and Carmine Sky.
Highlights Evanthia: A colourful blast of sunshine, scents and surprises
Evanthia presents the latest developments in Helianthus Sunsation® potted sunflowers, Lavandula Cleo-Patio® and Platycodon Corsa series. Evanthia's pot and bedding plants line-up consists of ground-breaking varieties with truly unique features. The team happily informs about all that's new and about how Evanthia aims to work in partnerships for product development, identifying market opportunities and creating added value. Additionally, a wide range of extravagant, unique and exclusive tropical plants will be on show. Evanthia's cut flower collection will be presented in bold arrangements and by lively floral demonstrations
New location FlowerTrials 2022 in the region Westland (Netherlands), Selecta one and Evanthia:
Green '05, Oranjesluisweg 6a, 2671 NB Naaldwijk, the Netherlands
Selecta one in region Rheinland-Westfalen (Germany): Nursery Christian Filla, Kortweg 9, 47638 Straelen, Germany.
Selecta One
The Selecta one Group is a leading global breeder, grower and marketer of innovative ornamental and utility plants. The breeding activities comprise bedding and balcony plants, houseplants, perennials and cut flowers. In 2022, Selecta one expanded its range to include young vegetable plants. With production sites and sales companies in Europe, Africa, Asia and America, Selecta one serves all relevant markets worldwide.
Evanthia
Evanthia presents strong and original genetics within pot & bedding plants, tropical plants and cut flowers, complemented by a broad and partly exclusive selection of top products from other breeders. With an ever-growing network of production, sales and distribution partners, Evanthia supplies high quality starting material worldwide. Always looking for new ways to put the grower in a good market position and working together with chain partners towards joint success.