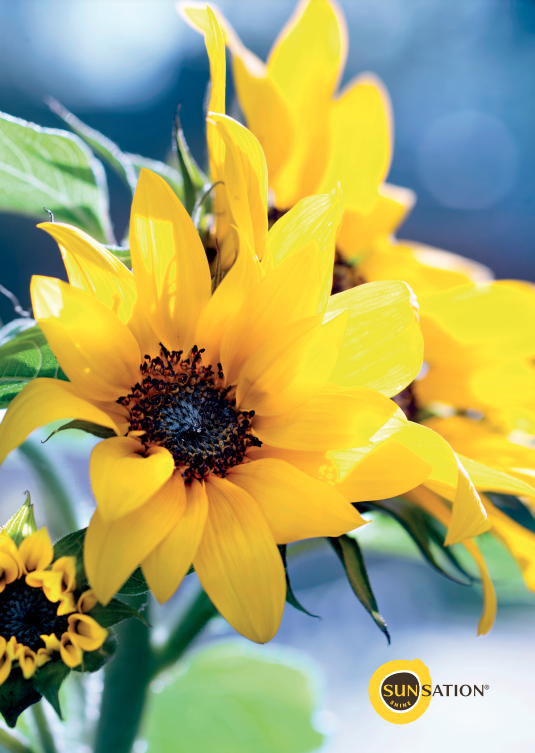 Sunsation flowers from the end of March through to September, which is exceptionally long for a pot sunflower. Add to that the fact that this compact, robust plant is perfectly happy in a pot, container or basket and you can safely say that this up-and-coming talent will take our patios, balconies, gardens and interiors by storm. It's guaranteed to be a cheerful, sun-filled summer! The Sunsation is therefore the perfect plant for bringing sunshine into our mothers' lives on Mother's Day (8 May)!
Sun-filled summer
Unlike other sunflowers, Sunsation starts flowering in the spring and produces multiple buds. As soon as one flower has finished blooming, the next bud bursts open. And because every flower will last for at least a couple of weeks, you can enjoy a whole summer of cheerful sunshine – regardless of the weather! The pot sunflower is a compact, decorative plant that stays nice and low and is sturdy enough to withstand rain and wind. That makes Sunsation perfect for pots, containers and baskets on the balcony and patio.
Bringing sunshine into the home
With its bright yellow petals surrounding a dark centre, the Sunsation pot sunflower brings sunshine into the home. The plant doesn't mind if you bring it indoors – in fact, it will go on flowering enthusiastically for a long time there too. Place the plant on a pedestal such as an attractive stool or side table or hang a vintage basket containing several plants on the wall. Combine the pot sunflower with grasses, herbs and other flowering plants in a large container to make a mini garden for your garden table. And with three or five sunflowers in a sturdy basket you'll have a true eye-catcher on the patio that radiates sunshine all summer long. This will really make you smile!
Top condition
Sunsation needs very little care. Place the plant in a sunny spot and water regularly to keep the soil moist (but not soaking wet). To make the plant really happy, add a little plant food to the water once every two weeks. Always remove faded flowers, because the next bud is waiting to burst into bloom.
Tip for Mother's Day
Put a Sunsation in a matching brightly coloured pot and write your message on it!