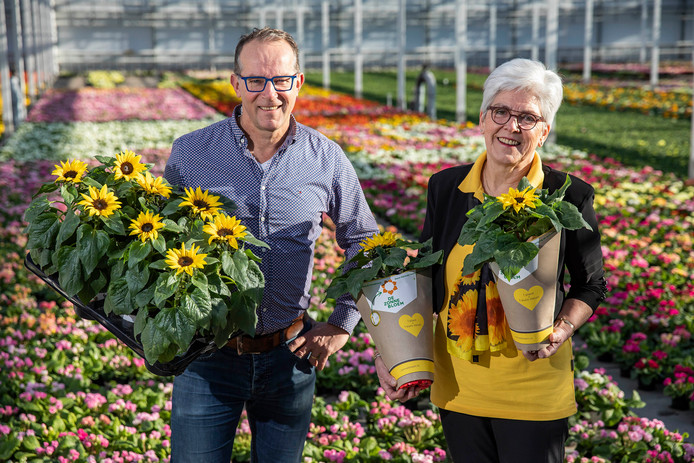 The 12 growers in the Sunsation® Sunflower growers' collective have launched a campaign to sell 100,000 sunflowers for De Zonnebloem. One euro from every sale goes to the national volunteer organisation.
This campaign was prompted by a successful fund-raising campaign in Sittard last year. The Adrichem Potplanten nursery in Monster supplied the pot sunflowers for this campaign, which raised €500 for their local branch of De Zonnebloem. We can do that too, they realised at the Sunsation Sunflower growers' cooperative, which is made up of Adrichem Potplanten along with 11 other growers and a breeder. But on a slightly larger scale, as befits Westlanders. De Zonnebloem is celebrating its 70th anniversary this year, which is a good hook to hang the sunflower campaign on.
In no time at all
Under the enthusiastic leadership of Louis Kester and Didi van Os of the consultancy firm Florpartners, the cooperative's campaign took shape in no time at all. Maasdijk-based JBB designed a special anniversary sleeve which will soon be sold all over the country.
Very big
"For me, the best thing about this whole campaign is that the money can be used to put on Zonnebloem activities for people with a physical disability throughout the Netherlands, including here in our region," the cooperative's chairman Sjaak Buijs tells the Algemeen Dagblad. One euro from every sunflower sold goes to the national association, and every plant sold also generates an additional donation for the regional coffers. One hundred thousand sunflowers is a huge quantity, Buijs realises. "Yes, a huge numbers of pot sunflowers will soon be leaving our growers' greenhouses," he says with a grin. "But I don't think it will stop at 100,000. This is going to be very big. I think it's incredible."
Tilly Goes, chair of the De Zonnebloem Westland region, agrees. "Yes, it's fantastic. De Zonnebloem has around 38,000 volunteers nationwide, with about 450 across 12 branches in the Westland region. We are about to check which branches want to participate."
No end date
The campaign will begin in April, once the first sunflowers are ready for delivery, and will then run for a few months. But if it were up to grower Sjaak Buijs, there would be no end date. "We growers have joined forces to make this a success, and as far as we're concerned it is something that would definitely be worth repeating."