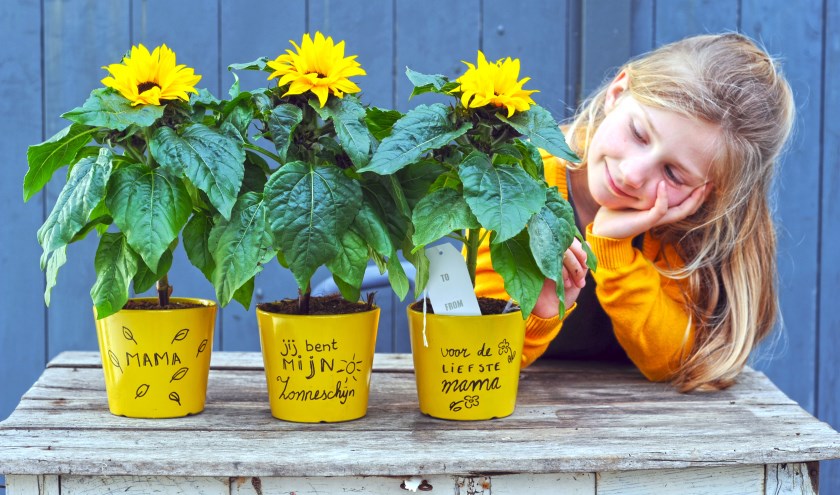 The eye-catching Sunsation pot sunflower from Monster-based breeder Evanthia is set to attract a lot of interest from the national and international retail trade.
The compact plant with bright yellow flowers with a black centre has an exceptionally long flowering period.
Unlike other sunflowers, the Sunsation has multiple flower buds. Has one flower finished blooming? Then the next bud will burst open. Every flower is sure to "shine" for several weeks. Its strong stem and low height (40 cm) make the sturdy Sunsation perfect for pots, containers and baskets on the balcony and the patio. The pot sunflower is available in three varieties: Yellow, Lemon and Flame (with a reddish-brown ring). Following extensive trials, in late 2015 the Royal Horticultural Society (RHS) awarded the Sunsation Lemon and Sunsation Yellow an Award of Garden Merit for exceptional garden performance throughout the entire flowering season. To stimulate consumer sales, the Sunsation growers' collective is running a large-scale promotional campaign in the Netherlands, Flanders (Belgium), the UK and Germany, with separate promotional activities being developed for each country. There are 15 Sunsation growers in the Netherlands altogether.
Mother's Day
Mother's Day (8 May) is an important date in the Sunsation promotional calendar in the Netherlands. On television, the pot sunflower can be seen in programmes such as Eigen Huis & Tuin (30 April), Koffietijd (3 May) and Robs Grote Tuinverbouwing (30 April) In these popular TV programmes, the Sunsation is being presented as the ideal Mother's Day gift for bringing a touch of sunshine – literally and figuratively – into mother's life. In addition, there will be various activities in Dutch and Belgian consumer media (magazines, newspapers, websites and blogs) designed to raise maximum awareness for Sunsation. Rob Verlinden will mention Sunsation in his garden makeover programmes on 7, 14 and 21 May.
Interested garden centres, florists, supermarkets, DIY stores and web shops can contact Sunsation at info@sunsationsunflower.nl.